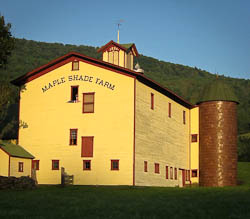 The festival is going to be held at Maple Shade Farm, 2066 County Highway 18, Delhi, NY 13753.
Click here to see us on the Google Maps website and get directions.
Here's a closeup of where we are on Google Maps:

Where is Delhi?
Delhi offers the best of both worlds — close to great cities, but rurally situated in the western foothills of the Catskill Mountains.
New York City - 150 Miles
Albany - 90 Miles
Binghamton - 70 Miles
Kingston - 70 Miles
Cooperstown - 40 Miles
Utica - 75 Miles
Boston & Philadelphia - 250 Miles