Children's entertainment is sponsored by the Greater Delhi Chamber of Commerce and will take place in their tent. Bells & Motley will provide storytelling, music, and show off their collection of historical instruments both days of the festival. They will have two storytelling sessions and two concert sessions each day. In between they will be happy to explain how their historical instruments work.
---
Bells & Motley Olden Music & Storytelling Schedule
SATURDAY and SUNDAY
12:00 Historic Instruments and Musical Traditions of Earlier Times
1:30 Music, Instruments, and Cultures of Historic NYS
2:30 15 Miles on the Erie Canal — Participatory Musical Folk Storytelling for All Ages
4:00 Historic Instruments and Musical Traditions of Earlier Times
---
About the Entertainers
Bells & Motley Olden Music, Dance, and Storytelling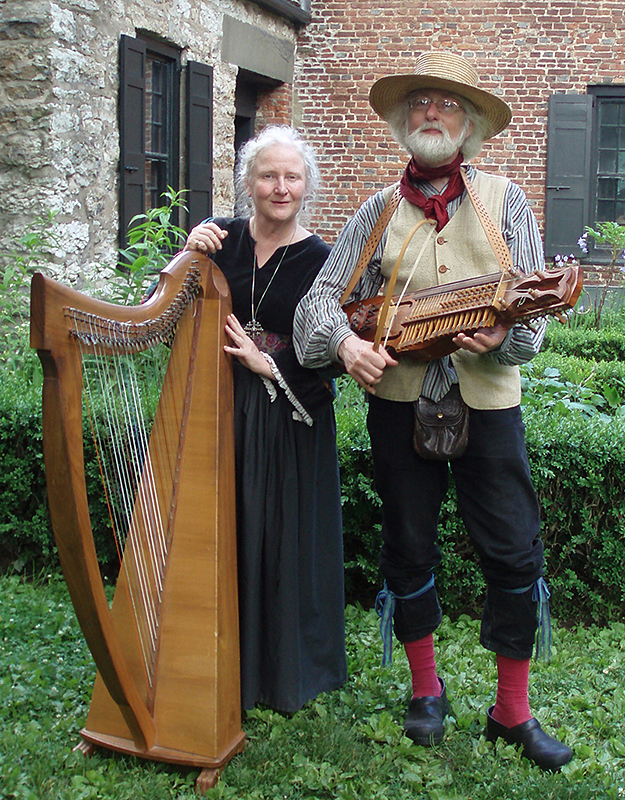 Meet "Bells & Motley Olden Music" — Sondra Bromka and John Bromka — musicians, storytellers, folklorists, historians, teachers, playwrights, and historic instrument makers! Each performance is a journey into history, a vibrant cultural immersion for the senses. In the words of a presenter: "their gift is their ability to connect with audiences of all ages & levels, to ignite a love of history, arts, ideas, and traditions."
For 35 years, music has been at the heart and center of all Bells & Motley's performances, brought to life by a vast array of instruments that range from early Medieval-Renaissance, to Traditional Folk instruments. Theirs is reputed to be the largest collection of its kind in the Northeast! The Bromkas will bring a great selection with them to this year's Taste of the Catskills Festival, including hammered dulcimer, harp, hurdy gurdy, nyckelharpa, even an assortment of historic bagpipes. There will be traditional favorites like fiddle, mandolin, banjo, button accordions, bodhran and jaw harp; and then a selection of rare oddities from different parts of Europe.
Inspired by the activities and theme of this festival, NYS Heritage instruments and music will play an important role, as this pays a heartfelt musical tribute to our state's rich cultural history. Says Sondra: "Our state's agricultural traditions and historic preservation have been an important part of our childhood upbringing, our historic musical work, and now at our historic home in Marcellus, our ever-growing heritage garden activities and orchards!"
Come enjoy Bells & Motley's shows — each one will be different! Here is what the Bromkas are planning for their featured presentations.
"Music, Instruments, and Cultures of Historic NYS" — This concert pays special tribute to the music and instruments of different cultures in early New York State, including some surprising instruments, songs, and languages one would have heard along our famous NY waterway. Imagine, for example, songs by Steven Foster being inspired directly from original Welsh versions!
"15 Miles on the Erie Canal" Participatory Musical Folk Storytelling for All Ages — Here is a lively, colorful, & very participatory historic musical storytelling journey for the whole family. Enjoy authentic Canal Sing-Along, Act-Along Songs presented in 19th century 'folk operetta' performance style, complete with sets & costumes. Hear favorite canal music played as it once was, performed on a collection of historic instruments including hammer dulcimer, banjo, fiddle, squeezeboxes, and even a Hurdy-Gurdy! The story unfolds when Captain Simon Slick and Irish cook Sallie Waters meet up with Sal, a truly amazing Mule (a guest from the audience!), to set off on a rollicking journey down The Grand E-ri-e Canal, 8th Wonder of the World! But oh me, oh my -- where did the water go, how can we solve this dilemma? Tall Tales and Riddles come to the Rescue! Great characters, great stories, and everyone sings in this unforgettable historic enrichment experience.
"Instruments and Musical Traditions of the Earlier Times" — with an emphasis on sharing some of the more rare instruments representing different cultures of early Europe (many of which, including the hurdy gurdy, made their way into NYS in the hands of immigrants.) It will be our great delight to include some of our favorite early songs about farm life, the changing of the seasons, and of course that eminent harvest character, John Barleycorn!